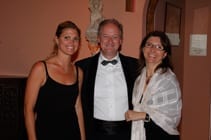 French independent company founded & state licenced since 1979 as a S.A.R.L (Ltd cie) with fully-owned commercial office at :
205 Promenade des Anglais, 06200 Nice.
Tour-Operator nationally registered by Atout France (former French Government Tourism organisation) under n° IM006100006
Commercial registrations :
R.C. NICE : 315 147 389 00037 (Civil responsability)
APE /NAF / NIC : 79.11Z (French Trade category for Tour-Operators)
VAT : FR57315147389 (European fiscal number)
Financially stable: an authorized / issued / fully paid-up capital of 15'245 Euros. Net assets exceed 300'000 Euros.
Financial year: Jan 01-Dec 31.
Banker: CREDIT AGRICOLE Provence area
Account Holder: VIP RIVIERA SERVICE –> IBAN: on request –> BIC/SWIFT: on request.
Agency guaranteed by A.P.S.T. (French Nat'l Travel Agencies Association) 6, rue Villaret-de-Joyeuse 75017 Paris
Bonded (APST certificate) which GUARANTEES TOTALLY our professional commitments. By using VIP Riviera Service, all your deposits and payments are totally guaranteed through APST (French National Professional Tourism Guarantee Association) of which we are members, in case of any default of our company.
Guaranteed against financial consequences of our professional responsibilities by Hiscox with contract RCP_APST/243100 (Insurance Liability certificate English version and/or in French).
An approved member of :
WATA for Southern France & Monaco
NICE Chamber of Commerce
URCA (Union des Réceptifs de la Cote d'Azur) an informal association of local DMC's
VIP Riviera Service operates around the clock, 7 days a week – call: 0033 4 93 44 22 33  or Whatsapp. with 24hr emergency line manned by our own VIP staff.
Our DMC specializes in the creation and operation of unique programs for Professional Tours, Special interest Packages and Incentive Programs. Through sales calls to our clients, VIP Riviera executives stay closely attuned to your needs.
VIP Riviera Service has provided services for quite a number of receptive movements to Incentive Travel Producers (see our referrals). VIP Riviera began handling incentive groups in 1979 with special deluxe programs. Ever since then, we have enjoyed substantial and continuous growth of incentive travel business, having handled, during the past 12 month period alone, over 5.500 people in group sizes varying from 25 to 750 passengers each. We also handled the AAPG convention at the Acropolis (housing, excursions, registrations), the 6th World Congress of Biological Psychiatry with 6,000 participants and the JM&A Toyota 900 participants.
VIP Riviera Service is also justifiably proud of its carefully selected and highly trained licensed Guides and Travel Directors (all multi-lingual with local knowledge) who will manage your travel program. Our dedicated professionals assist and control transfers, dispatches, sightseeings, pre-advance functions and supervise your Desks. Our keen knowledge of the Incentive Travel Market needs allow us to provide a high level of efficiency and standards of quality well above normal expectations and requirements. When you deal with us, we are an extension of YOUR COMPANY in the destinations that we know best. We don't just give you great service; we save you time and money. No matter what your needs, the Professionals at VIP Riviera Service are at your service